commonly known for her big bum, wacky outfits/hair, foul mouth (for a woman) and bright pink lippy.. but anyone that knows me will know i think nicki minaj is the best thing since sliced bread!
i just loove her music loads! i also think shes so pretty and sometimes she wears some really nice stuff... other times its a bit too out there for me! im going to share some of my likes and dislikes..
plus my fave songs of hers at the bottom :)
some of the outfits i've liked..
at the national basketball players association all star gala.
this one is pretty normal for nicki.. im not sure about her hair (its the fringe!) but i really love the jacket and i suprised myself by liking the leggings too and shoes too, although im not sure i'd wear them myself.
not something you'd get away with just wearing up town and it probably wouldnt be top of peoples list for a night on the town BUT i cant help it, i really do like it! i love pink and i love that shade of blue.. i want the bag especially.
at the billboards 6th annual women in music event.
i like i like i like.. i want! its pretty 'normal' for nicki but she has a lovely figure and pulls it off so well. i'd prefer her hair if it was straight though.
ok so i dont like the colour red and i dont like orange all that much either but i really think nicki looks fantastic in this outfit! it makes her look teeny tiny though! again, i looove the bag! oh and i like her hair this time too :) the bag is chanel but its not on their website.
hosting BETs rip the runway
do i really need to explain why i like this?! - its pink!! i really like the silver shoulder detail too. although i could never get away with the dress, nicki looks fandabbydosey. and those shoes! wowzers! get them
[here]
and now for some of the outfits i really didnt like..
nikelodeon kids choice awards.
oh nicki, you're so pretty.. why would you do this to yourself! :/
billboard music awards.
this outfit reminds me of jessy j a bit.. but i wouldnt be smiling either if i stepped out wearing this.. it squashes her boobs right down, making them look really small and it makes her legs look chunkier. not flattering. the shoes are ok. i dont like the patchy hair though, even if it is pink!
mercedes benz fashion week.
dear nicki, WHY WOULD YOU DO THAT!?
i dont like any part of this outfit or the hair or shoes.. hello socks :O yeah i dont like you either..
this outfit is awful.
54th annual grammy awards.
i do hope she's got her arms up like 'come on, who the hell made me wear this?!' no? oh..
it makes her look plus size.. oh its just horrible! horrible, horrible.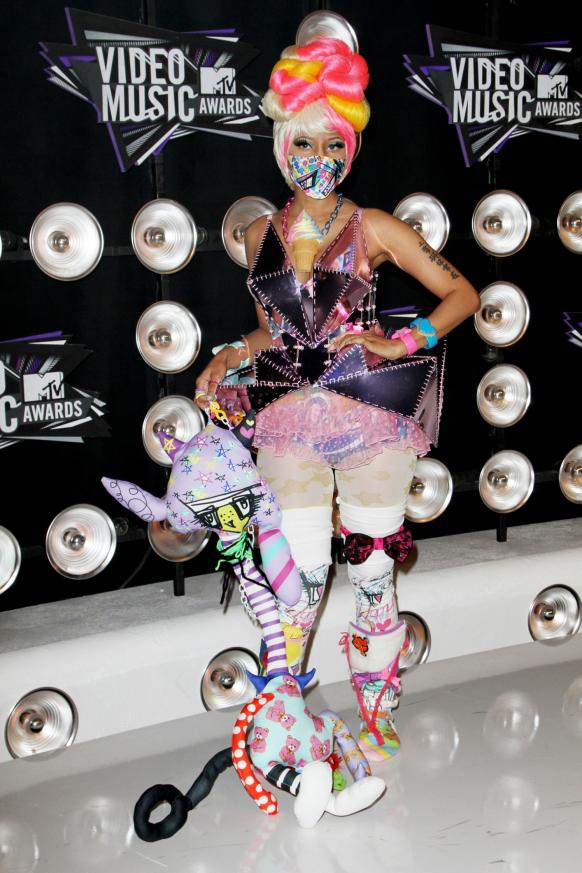 at the VMAs.
oh nicki.. what have you done. who attacked you? after them!! what do you mean nobody?!
no part of this outfit is nice or even a little bit nice.. its just.. no. grim.
so what did you think of all those outfits i picked out? do you dislike any i like or like any i dislike? let me know! :)
while i dont really dislike any of her songs (no, really!) there are obviously a few i LOVE a bit more than others.. the links will take you to the youtube video. they're in order of how much i loove them!
gun shot
- has a caribbean feel to it.. i love it.
songs ft. nicki minaj that i like:
so those are my 7 absolute faveourites.
i highly recommend you check out the top 3 as they're not like anything shes released. if you do, let me know what you think :)
anyone else love nicki minaj? what are your favourite songs of hers? xxx